Graphic Design WA offers a wide variety of indoor and outdoor signs.
A-Frames: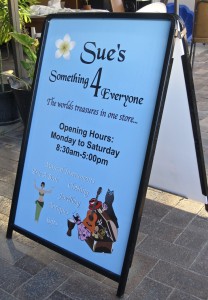 A-Frame Signs are a brilliant way to draw attention to your business and attract passing trade.  Economically priced and long lasting
Roster Signs:
One of the cheapest forms of signage – comes in 3 sizes.  Ours are laminated and long lasting, UV protected.  Simply fold them into the triangle shape and place them on roadsides for great exposure!
Shop Signs:
We can print signs on Aluminium Composite Panel, which is a terrific substrate, as it is strong yet lightweight – great for Bulkheads or internal signs for any Retail Outlet or building, or for signs in front of businesses (installed on box sectioned steel posts)
Full Colour Printed Corflute Sheets:
Roster Signs – Real Estate/Lawn Signs – A Frame Signs etc.
Full Colour Printing using a flatbed printer, capable of printing high resolution images or logos.  Suitable for outdoor billboards, advertising and Display areas – especially for Lawn Signs or Real Estate signs etc
Contact us for more information:

Graphic Design WA
Indoor Signs. Outdoor Signs. Shop Signs.
Email:  artist@graphicdesignwa.com.au
Phone: 0409 316 696