A professional design, which remains consistent, from your Logo through to your Website, Business Cards, Advertising, Marketing, Promotional Materials etc. is most important…
In order for the public to recognize and remember your business, you have to promote (in what is usually a very short time of exposure) what you can offer them and why they should consider your services.  We will help you to build this awareness by developing designs to suit your own individual needs in a professional, friendly and cost effective manner.
Examples:
Hi Five Boarding Kennels:
Consistency makes for customer recognition… here you can see how effective a logo and signage can be, using good, bright colours and correct placement for cards, flyers, signage, vehicle signage and work clothing…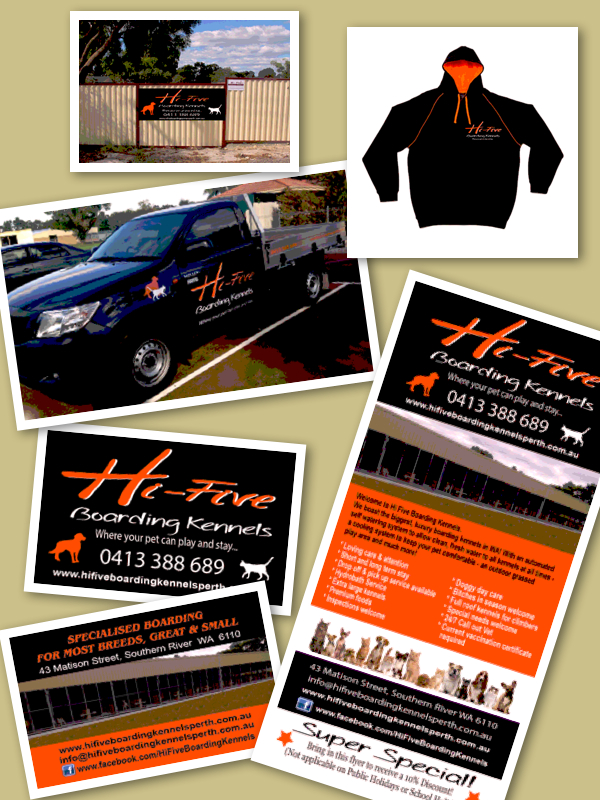 Spits 4 Hire
Steve and Kev from 'Spits 4 Hire' explained what they wanted for their logo, and I drew the Bull and the Pig by hand, then worked the design on the computer, making the colours bold and outstanding and adding font etc.  They were delighted with the finished product and this branding will now be seen on all of their company stationery, clothing, promotional products etc.
Tee Shirts, front and back designs.
*******************************************************************
Contact us for more information:
Email:  artist@graphicdesignwa.com.au
Phone: 0409 316 696